NFL Picks Week 4: Steelers vs Vikings Picks ATS and Predictions
Vegas is currently favoring the 0-3 Steelers by 2.5 points against the 0-3 Vikings.
By: MaChez, TSZ Expert
This Sunday in London the exciting 0-3 Minnesota Vikings face off against the equally as exciting 0-3 Steelers in the first game of the 2013 NFL International Series. Not too surprisingly, the forecast is calling for rain and a high chance of mediocrity. Now you may be thinking, "Vikings/Steelers?! Two 0-3 teams? That's the best early matchup you could come up with? What about Texans/Seahawks? Bears/Lions? Giants/Chiefs?" All valid questions.
The reality is, with aspirations here to Spread the The Spread Zone worldwide, how could we pass on this easy opportunity to attract some readers from across the pond? That's right, you better Adam and Eve it. This article breaking down a match-up of two of the worst teams in football is solely an attempt to bring in more traffic from the land of monarchs and legal gambling and we're not afraid to admit it. Now that we have you here, let's get down to some predictions.
Minnesota Vikings
After finishing 2012 with a surprise playoff birth, the Vikings have been a complete disappointment this season, starting it off with three straight losses. In Week 2 they lost on a last second TD to the Bears and followed it up last week with a loss to the pathetic Browns who just happened to be starting a third string quarterback four days after trading away their #1 running back. Even Adrian Peterson's bricks and mortar couldn't believe it when a late Vikings' three-and-out led to a game-winning drive by the Browns.
So my daughter is laying here under me and just out the blue she says... I can't believe you lost to the Browns Daddy! Smh
The Vikings offense has been below average – 22nd in yards/play, 2nd in turnovers, 20th in net yards/pass attempt - you get the picture. As usual, Christian Ponder's play has been less than inspiring and WR Greg Jennings has grown surprisingly quiet after putting up only 160 yards and no touchdowns over three weeks. Even Adrian Peterson has played below par: Not counting his 78-yard first run of the season he has ran for 203 yards this season, good for only 2.6 yards per carry.
Pittsburgh Steelers
Often considered a perennial elite team, the Steelers missed the playoffs last year and are into a right two and eight after only winning twice during their last ten games. Quarterback Ben Roethlisberger and offensive coordinator Todd Haley's relationship is now officially labeled "It's Complicated" and the Steelers face a must-win situation this week with wins for both the Bengals and Ravens likely in store for this weekend. Falling to 0-4 would basically be a season-killer.
The Pittsburgh offensive line will have their hands full against a dangerous defensive front that includes Jared Allen, and missing star center Maurkice Pouncey will only make things harder on 2nd year tackle Mike Adams. Fortunately for the Steelers they have rookie RB Le'Veon Bell returning from injury and actually had some sort of offense against the Bears last week when they put up 23 points.
The Spread
The line for this game opened even but has since moved to -2.5 in favor of the Steelers with the total sitting around 43.5. Helping push the line towards Pittsburgh is a raspberry rippling rib injury to Christian Ponder that might force Matt Cassel to start the game. Many Minnesota fans would argue that this actually helps the Vikings but we won't get in to that.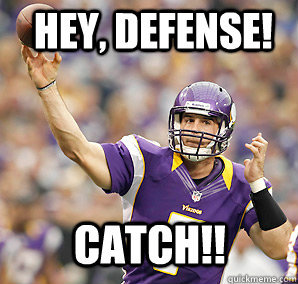 Whoever ends up starting, they will have their hands full against a defense that ranks 5th overall and 3rd against the pass. Safety Troy Polamalu will cause fits for game manager Ponder/Cassel, and the weight of the offense will, like it always does, fall on the shoulders of Adrian Peterson.
Unfortunately for AP, the Steelers biggest problem, their offense, which totaled only 19 points during the first two weeks, finally clicked last week when they put up 400 yards and 2 TDs against one of the better defenses in the league. With two of the Vikings starting defensive backs hampered by injuries and the Steelers desperate for a win, expect Big Ben to put up big numbers in London (naturally). The smart bread is on the Steelers and the OVER.
Prediction: Pittsburgh Steelers (-2.5) over Minnesota Vikings
OVER 42
TSZ Expert Picks: 5-1 Steelers
And for any new readers from the UK, Europe, or the rest of the world - welcome to the Spread Zone! Take a look around the resources at TheSreadZone.com, check us out on twitter @
www.twitter.com/spreadzone
and on Facebook @
www.facebook.com/thespreadzone
, and come back daily for the Daily Spread. We don't always awkwardly try to force cockney English in to our articles but we promise if you stick around you'll realize we're at the top of the apples and pairs when it comes to sports betting sites.