NFL Picks Week 11: Colts vs Titans ATS, Predictions, Thursday Night Football
The Colts are three point favorites as they travel to Nashville to take on the division rival Titans.
By: MaChez, TSZ Expert
This Thursday
we finally get a somewhat exciting matchup when the 6-3 Indianapolis Colts travel to Tennessee to take on the 4-5 Titans in an important AFC South matchup with tons of playoff implications. Both teams were upset last week by the Rams and Jaguars, respectively, so both should be ready to come out swinging tonight.
The Spread
Although the Titans opened up as one point home favorites, the line has swung 4 points in the Colts favor to IND (-3). The total is currently at 42.5.
Indianapolis Colts
In his second year, QB Andrew Luck is making it known why he was the number one overall pick in last year's draft. The new king of fourth quarter comebacks, Luck has made it a habit of making things exciting. On top of the bad timing, he's kept it exciting despite several key injuries, most recently to star-WR and team-father figure, Reggie Wayne. Last week's defeat was the first without Wayne so it will be interesting to see if his absence was the problem, or if the game was a fluke.
The Colts overall are a little tough to figure out. While they have beaten three of the best teams in the league (San Francisco, Seattle, and Denver), they have also lost to some average teams (Miami, San Diego, and St. Louis) and almost lost to teams like Oakland and Houston. Luck will need a lot more help from RB Trent Richardson as Luck accounted for 17 of 18 rushing yards last week against the Rams.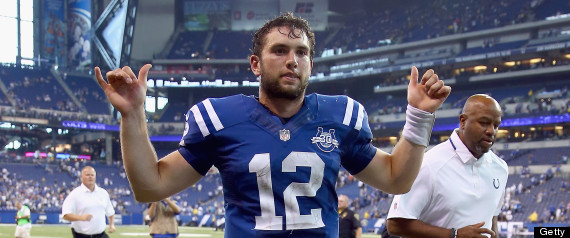 Tennessee Titans
For Titans players and fans it is probably debatable which was a bigger loss – losing to the atrociously bad Jacksonville Jaguars or losing starting QB Jake Locker for the remainder of the season. For an outsider the obvious answer is the loss of Locker as his original absence is what started the Titans slide after a promising start to the season. Stepping in for him will be Harvard-man Ryan Fitzpatrick.
Fitzpatrick wasn't spectacular while previously starting for Locker, but he did play well
on Sunday
accounting for three TDs in relief. Like Luck, he could use a lot of help from his star running back, Chris Johnson, who other than one game against the Rams two weeks ago, has been held under 40 yards in each of the last six contests. Fortunately they face a Colts D that has been giving up a lot of points recently.
Prediction
This matchup will go a long way in determining the winner of the AFC South. If the Titans had managed to beat the Jaguars like everyone else in the league did, they would be sitting one game behind Indy with this home matchup on the plate. But as JT says, yesterday is history, and they're now two games back. However, this is one of two matchups between these teams in the next three weeks so winning the next three could still put the Titans atop the AFC South.
That being said, don't think the Colts are going to lie down for the Titans to roll right past them. After the Packers loss last week, Indy beame the only team since the start of 2012 to not lose two straight games. This year, they've followed up their past two losses (which were pretty embarrassing) with statement victories over the 49ers and Broncos. With last week's embarrassing loss behind them, expect the Colts to come out strong and win this one 27-20.
Indianapolis Colts (-3) at TENNESSEE TITANS
OVER 42.5