The third week of the NFL preseason is generally treated like a dress rehearsal for most organizations with starters often playing at least a full half in an attempt to establish chemistry for the regular season. Here at The Spread Zone, however, after going all in on the first twenty games of our preseason, TSZ's owner, general manager, and coach has decided to rest our talented, young quarterback for Saturday's games in order for him to prepare for his live fantasy football draft tomorrow morning. Bring in the back-up.
What does that mean? Nothing really. Marco still made our picks, I'm still doing the write up, but those of you used to a magical tale of intrigue and statistical analysis for every game on the schedule will just have to DVR this post and read it over and over and over.
After another 2-0 ATS night, plus a little wager we placed on the Over in Oakland, Marco and I are feeling pretty excited about the upcoming regular season. For those of you following along at home, placing bets on every game is not a great gambling strategy. We do it purely for promotional purposes and to show off a little. The truth is, we've only placed two bets so far and are currently sitting pretty at 2-0. During the regular season, we will be betting our Friday Five every week, so we can play along with our TSZ Insiders.
Last Night's Games:
2-0 ATS
Preseason to Date:
14-6 ATS
SATURDAY'S SKINNY
Buffalo Bills (PK)
over WASHINGTON REDSKINS: With Operation Patience still underway and Kirk Cousins nursing a sprained ankle, that leaves the QB defenses affectionately call RG3andOut at the helm. We believe Rex Grossman used up the remaining mojo in his aged, out-of-shape tank last week. Stevie Johnson will be playing his first game of the season, and Kevin Kolb will be trying to take advantage of the EJ Manuel injury to steal the starting job. If Cousins is definitely out, this will be a great betting game.
New York Jets (+2)
over NEW YORK GIANTS: For whatever reason, the New York Giants are 0-5-1 ATS in their last 6 Week 3 preseason games. The real play here will be the Under as both teams are 4-13 O/U in their last 17 preseason games.
Cleveland Browns (+2.5)
over INDIANAPOLIS COLTS: The Browns have more to prove than the Colts. If they can get off to a good start, put some points on the board, and let their defense and running game do the rest, they should win this game outright. Besides, underdogs with 9+ days of rest in the preseason are 8-3 ATS in their last 11. We'll say ditto when we talk about the Chargers and the Falcons.
Tampa Bay Buccaneers (+3)
over MIAMI DOLPHINS: In a battle of first teams, we like the Buc's firepower. They are 0-2 in the preseason and will want to get some momentum or at the very least a cover heading into the regular season. It's no secret Joe Philbin doesn't care at all about the preseason record.
PITTSBURGH STEELERS (-3)
over Kansas City Chiefs: There is an expression in the preseason - A tired dog is man's best friend. According to the Chief of Useless Information, teams coming off of less than six days of rest in the preseason are 22-15-1. That's Pittsburgh. Now if they were an underdog, we'd be even more confident because dogs have been an even more impressive 13-6-1.
Philadelphia Eagles (-3.5)
over JACKSONVILLE JAGUARS: Wow - I'm looking up and seeing a lot of home teams picked today. And you know what - I'm not afraid. Michael Vick has been named the starter, there is zero hype around this Eagles team, so perhaps this is the year they overachieve. No better way to start said achieving than by beating up on the laughingstock of the league.
Cincinnati Bengals (+2.5)
over DALLAS COWBOYS: Last year my animal communicating mother-in-law said it was The Year of the Bird, and the Falcons and the Ravens both made the conference championships. This year, however, she swears up and down that it is The Year of the Cat, saying she believes - although it is technically impossible - that the Detroit Lions and the Carolina Panthers will meet in the Super Bowl. As we all know, psychic powers are not an exact science, and what I think she failed to see in her crystal river of energy in the sky was a Bengal. This team is that good.
San Diego Chargers (+4)
over ARIZONA CARDINALS: We like what we saw last week when the Chargers managed to come back in the second half against the Bears last week. What it tells us is that after the 0-0 first half, the Chargers will put away this anonymous - to us - Cardinals team. Ditto on the 9+ days of rest stat above.
Atlanta Falcons (+3)
over TENNESSEE TITANS: This line, much like the New England one in Detroit, feels like bait we should avoid. Nonetheless, the Falcons are 0-2 and if this is really the week teams want to establish chemistry and if this is the week Tony Gonzalez is officially coming out of retirement, then we're rolling with the birds of last year. Plus, remember what I said about rested teams?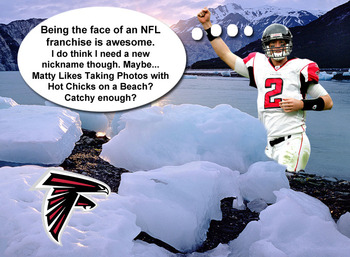 St. Louis Rams (+6.5)
over DENVER BRONCOS: Oh man, I wish I could remember that useful stat about large favorites in the preseason. Oh wait, I can - I just need to go to The Spread Zone and look in their Gambloogling section for System Bets at:
http://www.thespreadzone.com/preseason-week-3.html
and there you go. Bam. Just like Emiril, except younger and better looking. Drum roll please...since 2003 favorites of six or more points are just 6-12 ATS and since 2008, they've fared even worse at 1-9 ATS and just 5-5 SU. Currently, the line in Denver still sits and more than six. Sorry Todd.
And if you're counting at home, that's nine road teams. What are the chances right? Well, it's the preseason so who freakin' knows.
And that's how we second stringers do it here at TSZ.
Go get 'em Tigers,
Vinny and Marco