POST-SEASON RECORD TO DATE: 46-25 ATS
TOP CONFIDENCE PICKS:
18-9 ATS
CONFERENCE FINALS: 3-2 ATS
KYLE'S NHL PICKS TO DATE: 42-26-1
KYLE'S MLB PICKS TO DATE: 112-77-7
KYLE'S UFC PICKS TO DATE: 9-6
In case you're not mathematicians, that's four sport parlay all of which are at or above 60%. With a real handicapper like Kyle on board and Marco and my continued success at guessing basketball games, there's no reason The Spread Zone shouldn't be the number one gambling resource on the Inter-Web by the end of this year. You think Kyle's good at hockey, wait until football season. But enough self-promotion, let's speak of important things.
Gambling is awesome!! In less than forty-eight hours you can go from hating teams/players, cursing them in their language and your own, and shaking your head at every ridiculously acrobatic shot they make to praising them unequivocally while muttering aloud things like, "I freakin' love that guy." Friday night, everything about the Spurs disgusted me, but last night...
Although the Memphis Grizzlies dominated most of Game 3 against the San Antonio, once the overtime began it was seventeen year veteran Tim Duncan who took over for the second straight game scoring seven points, assisting on two more, and grabbing an offensive rebound to seal the victory and give the Spurs a dominant 3-0 series lead. I freakin' love that guy - until Monday.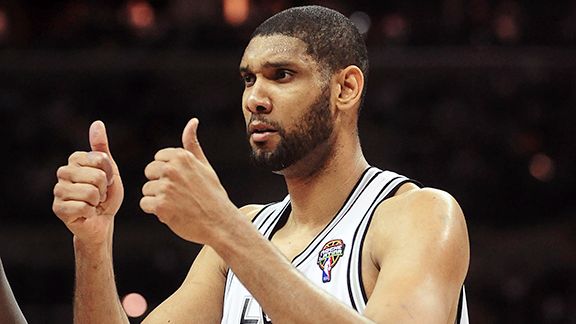 Even more impressive than the 37 year-old's physical capabilities on the court is Tim Duncan's mental focus in light of the off-court murmurs of his impending divorce. If Duncan's overtime play in Games 2 and 3 are any indication of how his divorce proceedings might go, then Amy Duncan is in big trouble. While Tim asked Amy sign a pre-nup prior to their marriage back in 2001, Amy might want to consider returning the favor by requesting a post-nup lest she find her even split at the end of the "regulation" nuptials turn into another huge win for her soon-to-be ex-husband.
"No silly. Trophies and money don't count as assets."
If you want to know which team to back in Game 4, check back to find out if Tim Duncan's request that the Texas courts postpone his divorce proceedings until "the Spurs win the NBA championship." If the judge consents, then you might want to consider taking the Spurs, the points, and 8 to 1 odds that San Antonio claims their fifth title in fourteen years.
Let's get to tonight's action.
INDIANA PACERS (+2) over Miami Heat: In a battle of amazing situational ATS records, we have the Miami Heat coming into Sunday night's game a perfect 7-0 ATS after a straight up loss (didn't they only lose 7 times?) in their last 7 and 4-0 ATS on the road in the playoffs. Meanwhile, Indiana has been an immaculate 6-0 SU and ATS at home in the playoffs and they've won 4 of 5 games over the past two post-seasons when tied in a series. I think the one loss might have been to Miami last year, but let's not dwell on details.
"It's okay, buddy. Losing gets easier with each game..."
In a series where the team receiving points has won 4 of the last 5 match-ups, we're going to recommend taking the points. Miami's Big Three played well last game, in Miami, and they still lost. Give a good reason why you think the role players will finally show up on the road? I don't see it. We believe if Miami is going to win a game in Indiana, it will be Game 4. Look for Lance Stephenson to show up big at home and the Pacers to win 92-89.
Vinny and Marco
KYLE'S CORNER:
THIS IS AN ALERT: I need to make this abundantly clear: Sundays and Mondays a lot of athletes have hangovers from being idiots, so sometimes weird things happen, reduce your bankroll on today and Monday
, even if I go all in on the picks I list, I only trust logic, stats, and my system 100% from Tuesday through Saturday
. I am putting this warning up because this is how I do things myself.
Alright time to recap:
NHL: 2-0. Boom (again)
Overall: 42-26-1
MLB: 6-4 (a couple 1 run heartbreaks)
MLB: Overall: 110-76-7
UFC: 7-6*
Overall: 9-6
*My 4 guarantees for parlay mixing all won, 4-0. So I think the above record doesn't do it justice, the long-shot underdogs didn't hit, and a a couple other ones were a lucky punch or split decision. While 7-6 looks pedestrian at first glance, when my 4 guarantees went 100% I think that's pretty good.
For Sunday
:
NHL: LA Kings @ San Jose:
LA Kings to win, game under 5
. *La Kings have young partying idiots on their team so I hope someone put a leash on them and they won't be hungover.
MLB:
Pitcher Follow:
ATL:
Teheran
(3-1, 3.99 ERA)
ARI:
Corbin
(7-0, 1.44 ERA)
LAA:
Williams
(3-1, 2.53 ERA)
PIT:
Rodriguez
(5-2, 3.40 ERA)
WSH:
Strasburg
(2-5, 2.66 ERA)
DET:
Scherzer
(6-0, 3.61 ERA)
Overs:
BAL: Gonzalez (2-2, 4.25 ERA) @ TOR: Jenkins (1-0, 3.60 ERA) O10 * Stats are against this, but these two teams have the hottest bats in the league right now.
COL: Garland (3-5, 5.19 ERA) @ SF: Cain (3-2, 5.12 ERA) O7.5

To conclude, I cannot stress this enough, athletes are overpaid idiots who have a strong tendency not to show up

on Sunday

games. Please be responsible with Bankroll management today.

Best of luck
Kyle