Season to Date:
44-40 ATS
Top Picks: 10-6 ATS
(Not So) Wild Card Weekend: 3-1 ATS
Oh the irony of sports gambling. If you look at last week's picks I believe my direct quote for the Arizona (+5.5) pick was "If we were ranking, this would be our number one pick." As it turns out, it was our only pick that went down in a blaze of the most un-glorious quarterback play I've ever seen. It's a good thing Ryan Lindley studied "back-up plans" at San Diego State.
...I'm better at than playing football.
Oh good, sounds like he has options.
This week we hope to continue our historic post-season success with some intriguing divisional round match-ups. As mentioned, the Panthers won in dominant fashion and now head to Seattle with a five-game winning streak against a Seattle team on a six game win streak. Similarly, Sunday's NFC match-up boasts an undefeated road team in the Cowboys against an undefeated home team in the Packers. Awesome, right? And still no comments from our old friend MaChez. Where for art thou buddy? Meanwhile, over in the AFC we have a rivalry game between Joe Cool and just plain Cool along with a battle between former Colts vs future Colts legends. What a weekend. Let's get pickin'. For our good friend John M. and his pool, we're projecting the O/U's, too.
Saturday's Games
Baltimore Ravens (+7)
over the NEW ENGLAND PATRIOTS: Talk about your definition of road warriors. Time and time again we've seen the Baltimore Ravens enter the playoffs as a lower seed and time and time again they find ways to get the W's. As the only road team to escape the Wild Card round, the Ravens now take their show to Gilette stadium where they face the New England Patriots. No doubt the Pats will be rested and ready, but if you watched Joe Flacco - with all the time in the world - throwing pretty spirals down the field against the Steelers, you can't pass up an entire touchdown. New England might advance, but we're predicting a score somewhere around 24-21. Take the RAVENS and the UNDER.
STAT BACKER:
Ravens are 5-0 ATS in their last five playoff road games while New England is 0-3 ATS in their last three playoff games against the Ravens, 3-10 ATS in their last 13 playoff games, and even 3-8 ATS in their last 11 playoff games at home. So much for home field advantage.
Carolina Panthers (+11.5)
over SEATTLE SEAHAWKS: A closer look at the Panthers recent win streak shows that they did it against teams with a combined 33-47 record while Seattle compiled theirs against almost all winning teams. Couple that with the fact that Cam Newton has only led one touchdown drive in his last against the 'Hawks and their defense (which has only given up 39 points in their past 6 games), and our Panthrers pick looks as bold as my aging head. Oh wait, that's bald. Nonetheless, eleven plus points in a playoff game between two teams that play tight defense and close games is too much to pass up. An early mistake or a well-designed opening drive (you know Seattle will defer if they win the toss) and we're looking at 18+. Take CAROLINA but fade the public, John M., and back the OVER. Seattle wins 28-17.
STAT BACKER:
The Panthers are 5-1 ATS in their last 6 road playoff games. Who cares because this probably dates back to the Delhomme era. The Seahawks are 4-1 ATS in their last five playoff games. We'll call that a wash and not remind you that the last six teams to finish the year under .500 and win a Wild Card game then lost in the divisional round by double digits. We think the trend continues, but we'll still win by half a point.
Sunday's Games
Dallas Cowboys (+5.5)
over GREEN BAY PACKERS: The Dallas Cowboys got that first round monkey off their backs thanks to their defense and a very questionable non-call by the referees. Nonetheless, they now pack that defense and hit the road where they haven't lost since last year. The Packers are a seemingly unstoppable force at home, but we think Dallas can keep up with them offensively and slow them down on offense. Back DALLAS and the UNDER here.
STAT BACKER:
The Pack are always a big pubic play and this game is no exception. With 60% of the bets on Green Bay, the line has still dropped. We're rollin' with the sharps and the Cowboys 7-1 ATS road record.
Indianapolis Colts (+7
) over DENVER BRONCOS: That's right - all dogs this weekend. It's the football fans in us. We want close games and we believe we're going to get them. There is no quit in the Indy team, so at the very least we see this game being covered with a late back-door touchdown. Take the COLTS and the OVER (the public has this one right).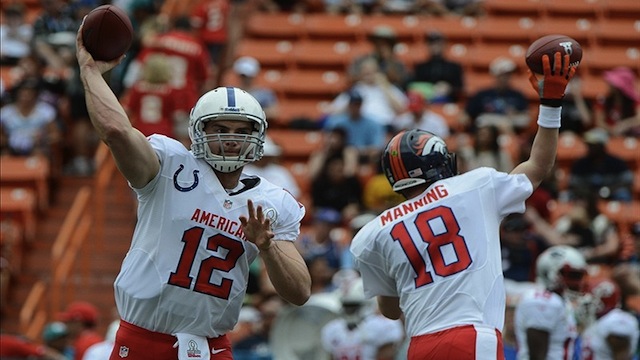 STAT BACKER:
Peyton Manning is just 10-10 ATS in his last 20 post-season games and Denver is a paltry 1-4 ATS in their last 5.
Good luck and May the Spreads Be With You,
Vinny and Marco
Reminders
1. Check out our friends at 1Vice. Click on the icon to the right and tell them Vinny and Marco sent you. They have terrific bonuses, fast payouts, and excellent customer service.
2. It's not too late to send us coffee. We'll need caffeine for the Divisional Round and Conference Championships. It might even be a tax write off. Just click on the Coffee for Vinny and Marco button and tell us you love us. We love you.