The Texans are three-point road favorites as they travel to Jacksonville to face the Jaguars.
By: MaChez, TSZ Expert
By letting Vinny handle last week's Thursday games, I was able to take a couple weeks off to try and get over the fact that the Packers aren't going to make the playoffs. Until Week 17. It's a lot more stressful than I remember having to wait for other teams to lose and DeSean Jackson to return punts to get us in to the playoffs. Naturally, my picks have taken a slide during this trying time, but the Thursday picks I write about somehow are almost always half right, so I'm hoping I still have that going for me.
Unfortunately I chose to come back just in time to cover the Toilet Bowl – the 2-10 Houston Texans at the 3-9 Jacksonville Jaguars. Yes, you read that right. Houston, a preseason Superbowl favorite, not
Jacksonville, a real season terrible team, is currently in line for the #1 draft spot. Houston has shockingly lost ten straight after playing two horrible games to start the season, while Jacksonville has shockingly won three out of the last four, including one on the road against Houston. Oooohh I can't wait for this one!
The Spread
Despite their losing streak, Houston is favored by three on the road with the total set at 43.
Jacksonville Baguars/Jaguars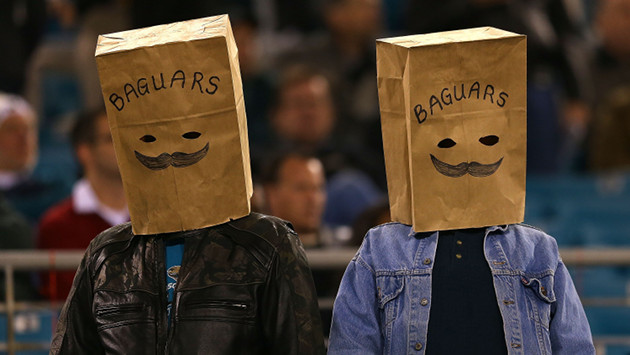 After starting the year 0-8, the Jaguars have won just as many games in the last four weeks as the Packers, Bears, and Lions combined. All three of those wins have come on the road (where they're also 3-0 ATS since they're never favored) while at home they have yet to win or cover the spread all season.
Even though they're worst in the league in about every offensive stat, their run defense has stepped up in the last four games, only allowing 68 yards per game along with helping cause eight turnovers. Quarterback Chad Henne has helped during this time after coming in for the QB everyone knew wouldn't ever be good, Blaine Gabbert. His presence has increased WR Cecil Short's targets and even Maurice Jones-Drew, who his having an off year, has been reaching pay dirt frequently as of late. Over the last four weeks, their points per game has jumped over 7 points. Plus, they were even able to trade blows back and forth with the Browns last week and sealed the game with a last minute TD.
Houston Texans
With the amount of talent the Texans have on the team, they are in competition with the Falcons for most surprising disappointing team this season. The fact that they haven't won since Week 2 is pretty ridiculous and should beg the question whether or not anyone on that coaching staff should ever coach gain. With Matt Schaub throwing pick six's every week and Case Keenum yet to win a game in relief, the Texans just might be gunning for that number one spot and the franchise QB they can get with it.
Adding to the anomaly is that although the Texans are third in the league in total defense, they are 5th last in points allowed. They've basically stopped causing turnovers or stopping anyone in the redzone so it's understandable why they can't win a game. This week should be another challenge, especially since Keenum, RB Ben Tate, and WR Andre Johnson all had terrible games in the meeting with Jacksonville two weeks ago.
Prediction
This is a tough game to call because you have to expect that with their talent the Texans win a game eventually and the Jaguars revert to pre-bye form eventually. The Texans actually played competitively last week against the Patriots, but NE was coming off a big win and was in line for a letdown. This week I see Houston also having a letdown after almost beating the Pats. They have nothing left to play for and Jacksonville will be determined to prove their worth to the home crowd. They have yet to be favored in a game this year and will fight to make sure they are before the season comes to a close. Jacksonville wins 20-7. Take the points and the under.
JACKSONVILLE JAGUARS (+3) vs. Houston Texans
UNDER 43