Season to Date:
29-21 ATS (58%)
Last Week: 3-2 ATS

Top Picks to Date: 8-2 ATS (80%)
With the second half of the season in full-swing, things are starting to get interesting around the league. Unfortunately, unlike the days of old when I had nothing to do but watch my daughter and watch football, I these days I can barely manage either. If 2013 taught us anything it is that knowledge is the opposite of power in the sports betting world. If 2014 is doing its part in reinforcing that truth. If you knew the amount of time and energy Marco and I spent last season researching picks, looking for trends, trying different angles, postulating theories, theorizing postulations, making up words that turn out to be real words, it might surprise you that we finished up under .500. On the other hand, what might surprise you even more is the amount we're putting in this year.
Vinny: "Hey Marco, is this a good time to talk out The Five?"
Marco: "Ummm. Actually, I haven't even done my research yet. Can we talk later?"
Vinny: "Sure."
Marco: "Great. I'll call you back in five minutes."
Three minutes later...
Marco: "Okay. I really like Cleveland this week."
Vinny: "Dude, you can't pick Cleveland every week."
Marco: "Okay, but I really, really like them this week."
Vinny: "More than next week when Josh Gordon comes back on both our fantasy teams? Am I right?"
Marco" "Well, no, but...dude, that's going to be awesome."
Vinny: "Yeah it really is. Okay, you can have Cleveland both weeks, but not #1."
Marco: "Deal."
NFL Week 11 Friday Five
#5. OAKLAND RAIDERS (+10.5)
over San Diego Chargers: The Raiders are winless and coming off a blowout against the Denver Broncos. The Chargers have fallen from grace and are coming off a bye. This is a classic NFL rivalry under less than classic circumstances. Nonetheless, the players seems to show up for this game and although the Raiders are 4-6 ATS against the Chargers in the last 10 meetings, they've covered the spread seven times and have only lost by more than 10 once in the past five meetings (twice in the past 10). Plus, the Chargers are 1-6 ATS after bye weeks. We'll take those odds at #5. Raiders and the points.
#4. INDIANAPOLIS COLTS (-3)
over New England Patriots: This line speaks to us as well. The Patriots have been steamrolling everyone the past few weeks which makes us wonder why the oddsmakers have them looking so attractive as a dog. We're not afraid to take the home favorite here because Indianapolis has come out of byes with 7-2 ATS record in their past nine years. Sure most of that was with Peyton Manning, but it's their crowd that really rests up during the bye week. Go Indy.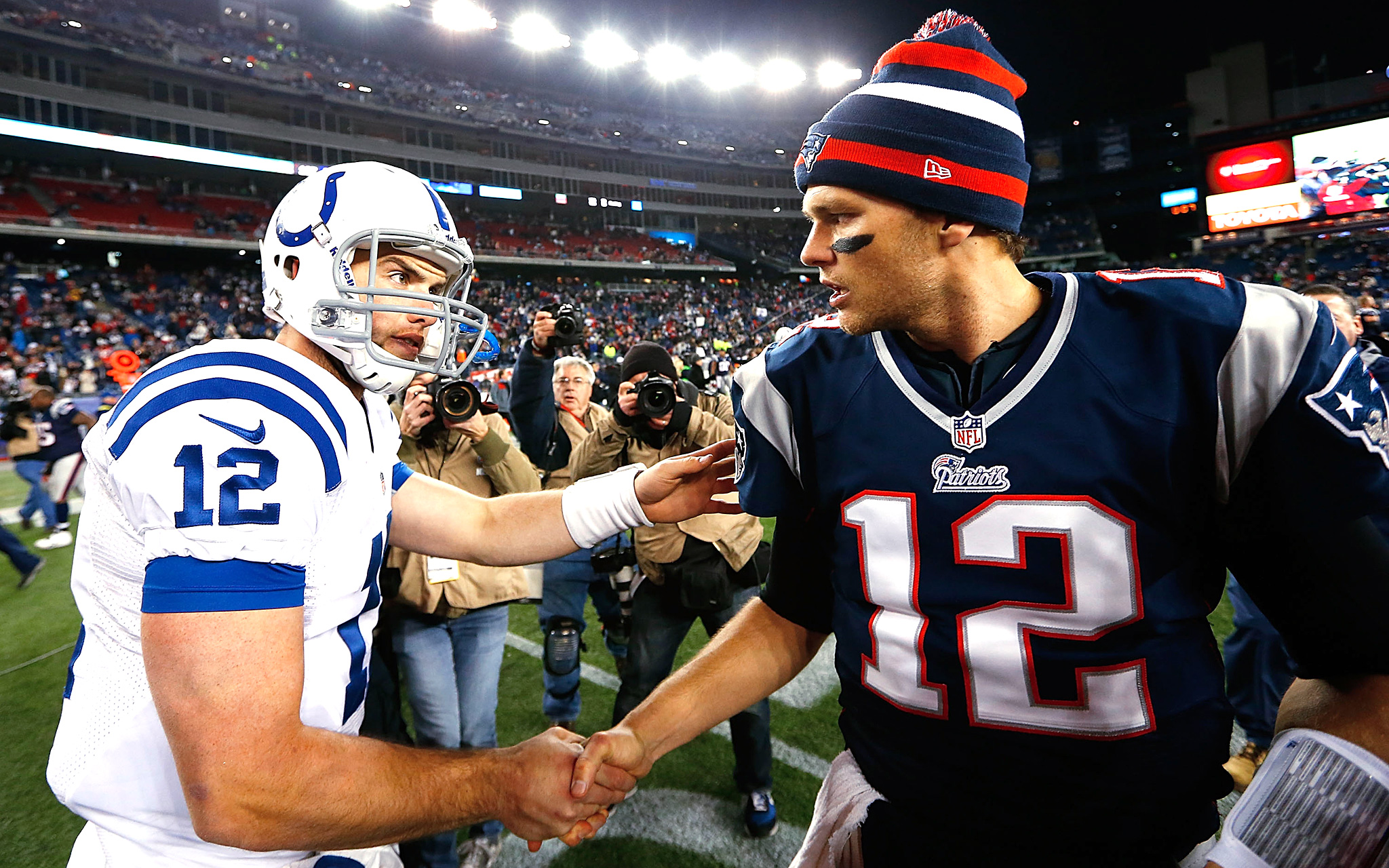 "Dude, I wish I looked that good without a helmet."
#3. Tampa Bay Buccaneers (+7.5)
over WASHINGTON REDSKINS: My daughter's favorite new joke:
Question: How much does it cost for a pirate to get his ears pierced?
Answer: A buck an ear.
The size of this line - much like the one in New Orleans this week - might be telling us something, but with the Redskins carrying a 3-14 SU record their last 17 games and coming out of byes to the tune of 1-3 ATS the past four years we can't in good conscience lay this many points with them. Meanwhile, for whatever reason the Tampa Bay Bucs love road cookin', covering all three since their early season blowout loss in Atlanta. We love Lovie and we love saying we love Lovie. This is a team on the rise. Take the points.
#2. CLEVELAND BROWNS (-3)
over Houston Texans: The Cleveland Browns are in first place in their division in the second half of the season for the first time since...well, since the words first place were invented. With LeBron James struggling in his homecoming, the Browns are all the Cleveland fans have right now and you bet they'll be fired up for this one. Meanwhile, not only are the Texans switching QBs this weekend, their win-resume over the likes of Oakland, Washington, Tennessee, and Buffalo doesn't impress us enough to back them with so few points. This is Brian Hoyer's most important game since winning the 2002 Ohio State championship for St. Ignatius High School...as a pitcher. Lay the small chalk and watch him strike out the Texans.
#1. KANSAS CITY CHIEFS (-2)
over Seattle Seahawks: Our days of soliciting coffee donations for #1 picks are behind us. We just don't have the time to network. If you do well with us, come on back and show your appreciation by hitting the Coffee for Vinny and Marco button. We appreciate you nonetheless.
All the numbers point to a Seattle cover here. They have covered 9 of their last 10 as an underdog while the Chiefs are 0-8 ATS in recent history as favorites of less than a field goal. Nonetheless, we are staking our 8-2 ATS record in #1 picks this week with the Kansas City Chiefs. If this were basketball or baseball, we'd believe that it was only a matter of time before the championship pedigree of the Seahawks emerges, but this is the NFL - there are no Michael Jordans or Madison Bumgarners to come to the rescue. The Chiefs will no longer be under anyone's radar after this game. The line movement of four points from Chief dog to favorite with 60% of the public backing Seattle tells me the sharps agree.
May the Spreads Be With You All,
Vinny and Marco